Arthur Festivals
Arthur, Illinois
Arthur's Independence Day
Freedom Celebration
Around July 4th each year Arthur celebrates our country's heritage, just like many other small towns do. Parades, baseball games, picnic and fireworks.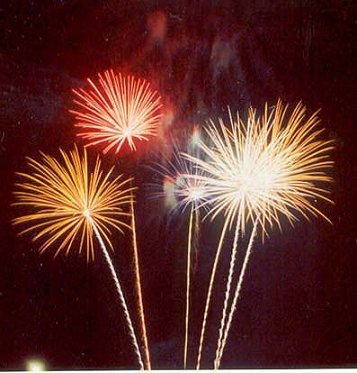 Wait a minute. Did I say just like other towns do?
Well, not exactly! In fact, a lot UNLIKE very many towns our size do.
On the Saturday PRECEEDING the 4th, (double check your calendar - it is always the Saturday BEFORE the 4th) people begin arriving in Arthur in the early morning, just to get a good location to see our SPECTACULAR FIREWORKS SHOW that evening! 30 plus minutes of continuous, multiple aerial displays, leave the 30-40,000 spectators breathless. (That's 30,000 to 40,000 people watching the fireworks in our town of 2200 residents!)
For the early arrivals, and there are many, they pass the time while waiting for dark shopping downtown, visiting vendors in the display area, watching military airplane flyby's and skydivers, relaxing at little league and softball tournaments, tailgating and just enjoying the day.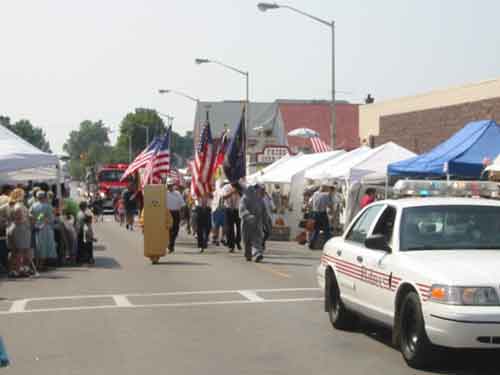 Every Freedom celebration needs a parade and we have one! Arthur's parade steps off at 1pm with line-up beginning at NOON at the Mennonite Church Parking Lot on East Illinois St. We'd love to have participate in our parade so print out our Parade Registration Form here.
By about 6pm the traffic into town becomes continuous. If you are one of the wiser, you'll arrive in Arthur early and spend the day. You can find a good place early to park and watch the fireworks from and then wander downtown, no more that 5 blocks from the fireworks area, and shop, have a bite to eat or an ice cream soda, before the crowds take over the place.
if you are not spending the night somewhere in Arthur, do not plan a hurried exit. Traffic does move slowly for up to an hour for those departing town. But it is worth the trouble. You will have enjoyed one of the biggest fireworks displays downstate.
For more information on this year's celebration...
Events & Festivals
Arthur Events Calendar
Subscribe